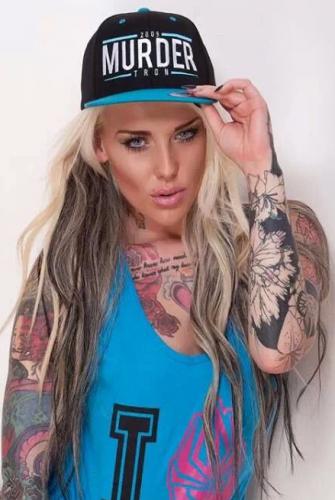 Professional Model
Lauren
Barry, Wales
I am a very ambitious model who is Hard Working , Reliable ,Committed , Willing to travel , open minded and keen to expand my portfollio by working with different photographers.
Page Statistics
Physical Details
Height:

162cm / 5ft 4in

Dress Size:

8 UK / 36 EU / 6 US / 10 AU

Weight:

117lbs (53kg) (8.5st)

Bust/Chest:

32 inch (81cm)

Waist:

25 inch (63cm)

Cup Size:

B

Hips:

32 inch (81cm)

Eye Colour:

Blue

Hair Colour:

Blonde

Skin Colour:

White

Hair Length:

Shoulder Length

Shoe Size:

4.5 UK / 37.5 Euro / 6.0 US

Tattoos:

Very Large

Piercings:
About Me
My Goal is to achieve publication and I would like to hear from any photographers who can help me achieve this .
Im especially interested in being published in mags like Bizarre Magazine , Skin Deep and zoo etc .

I have now done a lot of TF Work which has been of great benefit to my portfollio and help me to launch my modelling career . I am now interested in doing paid shoots mainly unless it would be beneficial to both our
portfollios.
Experience
Portrait
Fashion
Nude
Art nude
Lingerie
Topless
Glamour
Hair
Parts Modelling
Light Fetish
Soft Girl / Girl
Alternative .
Adult

I am Willing to work to all the above levels . *
As ive been modelling for almost a year now i have had a few amazing shoots with genuine photographers with amazing images to back it up.. I have also worked with a few 'photographers' on this site.. and felt nothing but slease. from now on if you wish to book me i would like to see a full portfolio and referances apart from models on this site.. ive seen alot of models and photographers given each other a good reference just to get one back.

PUBLISHED IN SKIN DEEP MAGAZINE ISSUE 218. COVERGIRL & 2 PAGE SPREAD INSIDE MAGAZINE.
PUBLISHED IN TATTOOSCOUT ISSUE 33. COVERGIRL.
PUBLISHED IN SKIN AND INK FRONT COVER ISSUE 144 AND CENTRE FOLD FEATURE
PUBLISHED IN ELITE ONLINE MAGAZINE ISSUE 40
PUBLISHED IN INK MAG, COVER GIRL AND 8 PAGE SPREAD :) (ISSUE 6)
PUBLISHED IN TEEN SPIRT ONLINE MAGAZINE FRONT COVER AND 6 PAGE SPREAD (ISSUE 013)
PUBLISHED IN SKIN SHOTS - FRONT COVER
PUBLISHED IN HAYBURNERS - FRONT COVER AND SIX PAGE SPREAD
PUBLISHED IN 100% BIKER - FRONT COVER AND 8 PAGE SPREAD
PUBLISHED IN TATTOO TRIBAL - FRONT COVER AND FEATURE
Comments